5G-23PANELBOX 23dBi integrated antenna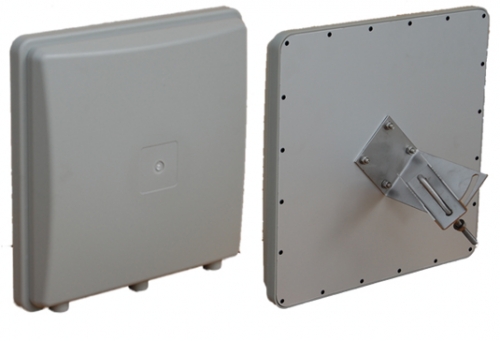 Features:
Big waterproof Outdoor Housing (RB333/433 and RB600 fits without any broblems)
Minimum Gain of 23 dBi over the entire frequency range.
Horizontal and Vertical polarization
U.FL pigtail inside
Waterproof RJ45 connector
Light weight and durable construction.
DC grounded for lightning protection to meet local electrical building codes.
Specifications:
Frequency Range: 5100-5875 MHz
Gain: 23dBi
VSWR: <1.5
Beam width: H-plane 12degree, E-plane 12degree
Antenna description: Directional panel
Polarization: Vertical or Horizontal
Impedance: 50 Ohms
Connector: U.FL pigtail inside
Finish: Plastic and aluminum backside
Mounting: Steel Hardware
inside Case dimensions: 36.5cmX36.5cmX6cm
Operating Temperature: -40C up to +75C
price: Ls 49 + PVN